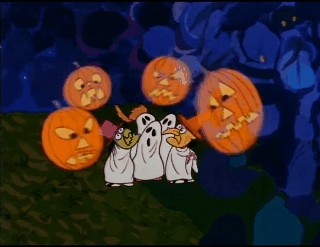 To all the goblins, ghouls, demons, and malevolent spirits planning to make an appearance tonight:
Things are scary enough on this side of the veil; we ask that you stay on yours while we cope with the aftermath of the pipe bombs, synagogue shooting, election in Brazil, continued crisis at the U.S. border, the genocide in Myanmar, and all the other wholly unholy human terrors.
Instead of haunting us this Halloween, might I suggest you take a load off and watch The Great Pumpkin? Or help out with early voting tasks, like volunteering to drive voters to the polls? We're cool if you decide to cast hexes on shitty media and politico men. Or if you're really itching to irk someone or another, the occupants of 1600 Penn could use a good scare.
Thanks for understanding. I hope you can come back next year.
love, Carey